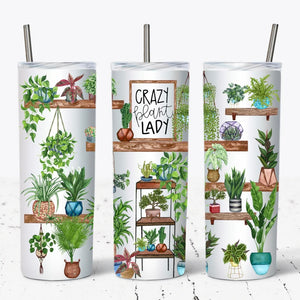 Crazy Plant Lady 20oz Tumbler.
This beautiful 20oz skinny tumbler is made from double insulated stainless steel which helps to maintain a constant drink temperature in any weather for up to 6 hours. Once you use one of these tumblers you will never go back to drinking out of something else. The design is printed onto the tumbler via sublimation ensuring it is of high quality and long lasting. 
Comes with a re-useable metal and plastic straw. 
Product Specifications:   
Capacity: 590ml or 20oz
Stainless-steel construction
Vacuum sealed 
Re-useable metal straw 
Re-useable plastic straw 
Slide top lid. 
Rubber base for non-slip 
Care Instructions: 
Gentle hand wash only please 
No scrubbing or abrasive materials 
Do not soak in hot water 
This product is not dishwasher or microwave safe.